The world's a classroom
Set up your classroom space, invite students, and manage lessons, activities, or projects, all in one place.
From your dedicated classroom space, you can share and review work between Google Classroom, Microsoft Teams, and more, as well as share assignments for students to complete.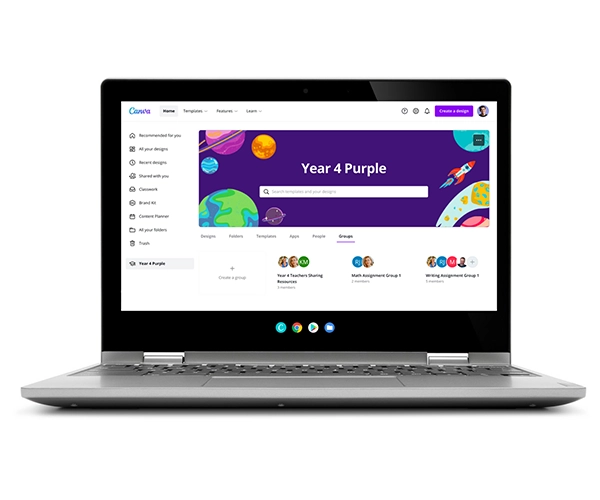 Save time with ready-to-use templates
Access thousands of high-quality, educational templates for every subject, grade, and ability. From Science and Math, to English, Social Studies and more – Canva is for everyone.
Discover worksheets, lesson plans, presentations, posters, reports, and more, all ready to customize.
See all templates
Unleash creativity with Pro features, free for educators
✓Create lessons, learning materials and activities in minutes with our easy to use platform. Canva for Education includes:
✓Millions of premium images
✓Premium fonts, graphics, videos and animations
✓Remove the background from an image in a click
✓Upload school logos and fonts
✓Add Bitmoji and gifs to personalize your work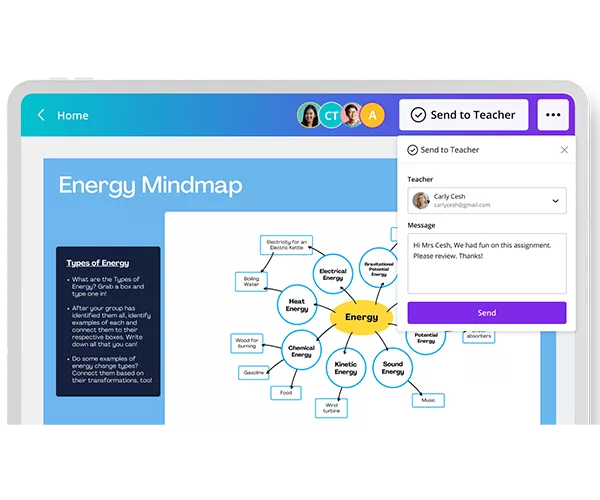 Share engaging visual assignments
➀ Create and share engaging assignments with your students for them to complete.
➁ Share them to Google Classroom, Microsoft Teams, or from within Canva.
➂ Students complete assignments at their own pace and turn them back in for you to review, leave feedback, or approve.
See all templates
Empower student collaboration and visual communication
Share group learning activities with your students for them to complete, individually or collaboratively.
Students can work together no matter where they are by viewing, editing, and sharing feedback with live comments in real-time.
See group work templates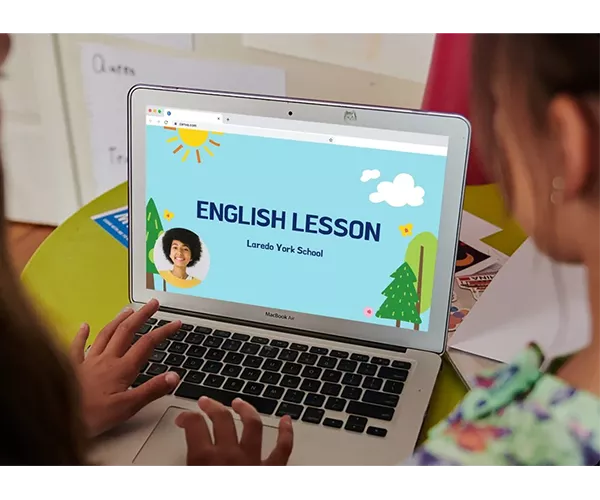 Deliver in-person, remote, or hybrid learning
Whatever your class looks like, Canva helps keep connection with your students strong. For students learning remotely, you can create a presentation or lesson, add your voiceover, and send or share directly as a video link.
Students can also create their own videos or record themselves speaking over their own assignments and projects, keeping the feedback loop strong and making their voices heard.
See all templates
It works seamlessly with all your
classroom tools
Canva works with other go-to classroom tools – import students from Google Classroom or by sharing a class link to Clever. We're continually adding more.
You can also share your work and assignments to Google Classroom, Microsoft Teams and Remind, or download work to PowerPoint.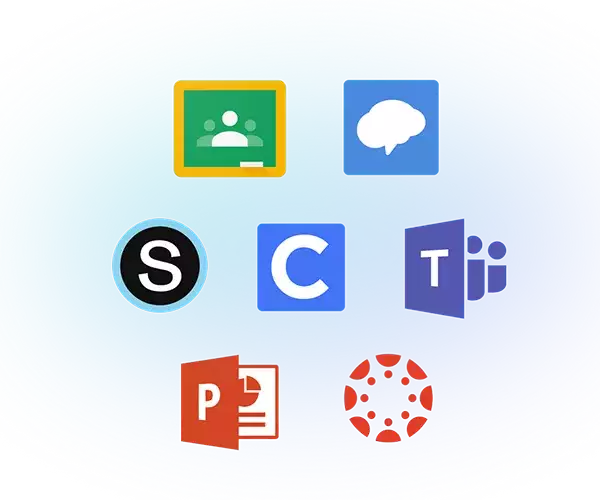 ✔️ 250,000+ free templates
✔️ 100+ design types (social media posts, presentations, letters, and more)
✔️ Hundreds of thousands of free photos and graphics
✔️ Invite members to your team
✔️ Collaborate and comment in real- time
✔️ 5GB of cloud storage

Everything FREE has, plus:
✔️ 100+ million premium stock photos, videos, audio and graphics
✔️ 610,000+ premium and free templates with new designs daily
✔️ Easily save and apply your brand or campaign's colors, logos, and fonts with up to 100 Brand Kits
✔️ Remove image backgrounds instantly with Background Remover
✔️ Resize designs infinitely with Magic Resize Save designs as templates for your

Everything PRO has, plus:
✔️ Choose from thousands of ready-to-use educational templates for any subject, grade, or topic.
✔️ Create engaging lessons and activities using copyright-free images, fonts, videos, animations, and editing features.
✔️ Reach and motivate students wherever they are. Share, review, and give feedback on their work in real-time.
✔️ Deliver fun and impactful feedback by adding text or visual sticker comments.
✔️ Easily integrate with all your go-to classroom tools – Canvas, Schoology, D2L, Moodle, Blackboard, Google Classroom, and Microsoft Teams.

FAQ Canva account